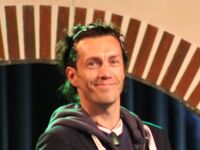 Royd Allan Reuel Tolkien (born 16 July 1969) is an English actor who was the great-grandson of J.R.R. Tolkien and the grandchild of Tolkien's second son, Michael Tolkien. His birthname was Royd Baker, but was changed to Royd Tolkien when became adult. He made a cameo appearance as a Gondorian Ranger in The Return of the King.
Behind the scenes
Edit
Royd had also made a cameo appearance in the second film of Peter Jackson's The Hobbit trilogy in a similar role, but his scenes were cut from the theatrical version though were included in the Extended Edition despite not being credited in film's end credits.
Ad blocker interference detected!
Wikia is a free-to-use site that makes money from advertising. We have a modified experience for viewers using ad blockers

Wikia is not accessible if you've made further modifications. Remove the custom ad blocker rule(s) and the page will load as expected.