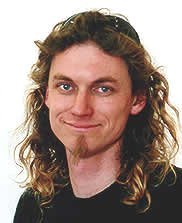 Matt Appleton
is a New Zealand armour & weapons supervisor at
Weta Workshop
and actor who worked as a leather worker and a standby armour and weapons technician for
The Lord of the Rings
trilogy and played a
Council Elf
in
The Fellowship of the Ring
.
Filmography
Edit
What Becomes of the Broken Hearted? - 1999 - wardrobe assistant
The Lord of the Rings: The Fellowship of the Ring - 2001 - leather worker (uncredited), standby armour & weapons technician, and Council Elf (uncredited)
The Lord of the Rings: The Two Towers - 2002 - armour weapons and standby
Master and Commander: The Far Side of the World - 2003 - miniatures crew
The Lord of the Rings: The Return of the King - 2003 - armour weapons and standby
The Chronicles of Narnia: The Lion, The Witch, and The Wardrobe - 2005 - props, armour & weapons, and onset standby
District 9 - 2009 - costume supervisor
Daybreakers - 2009 - creature suit supervisor
The Hobbit: An Unexpected Journey - 2012 - costume and armour supervisor
Elysium - 2013 - specialty costumes, props model, and making supervisor
Television
Edit
A Twist in the Tale - 1999 - costume prop maker
Revelations - 2002-03 - stand-by props
Behind the scenes
Edit
Matt had also worked with Peter Jackson in District 9 and the first film of The Hobbit trilogy.
Matt had straightened his hair when he filmed his cameo without wearing a wig, and was the first extra after Dan Hennah and Billy Jackson not to wear a wig.
Notes and references
Edit
Miscellaneous
Edit
Autographs
Edit
Ad blocker interference detected!
Wikia is a free-to-use site that makes money from advertising. We have a modified experience for viewers using ad blockers

Wikia is not accessible if you've made further modifications. Remove the custom ad blocker rule(s) and the page will load as expected.