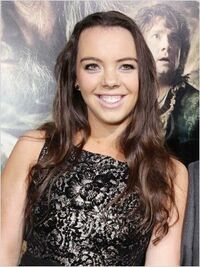 Katie Jackson
(born 1996) is a New Zealand actress who portrayed
Bell Boffin
in
The Fellowship of the Ring
, a
Cute Rohan Refugee Child
in
The Two Towers
, and a "Featured Child" at
Minas Tirith
and in
Sam and Rosie's wedding
in
The Return of the King
.
Filmography
Edit
The Lord of the Rings: The Fellowship of the Ring (2001) - Bell Boffin (credited as "Cute Hobbit Child")
King Kong (2005) - NY Child
The Lovely Bones (2009) - Leah Fox
The Hobbit: An Unexpected Journey (2012) - Cute Young Hobbit (Extended Edition only)
The Hobbit: The Desolation of Smaug (2013) - Betsy Butterbur
The Hobbit: The Battle of the Five Armies (2014) - Girl in Laketown (uncredited)
Behind the scenes
Edit
Katie is the daughter and second born child of Peter Jackson and Fran Walsh and the sister of Billy Jackson. She has made a cameo appearance in all of her father's films since The Lord of the Rings trilogy.
Unlike her brother Billy, Katie had appeared in every film in the Middle-earth saga.