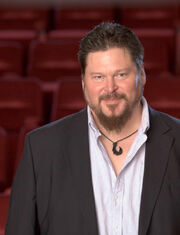 Gino Acevedo
is an American senior prosthetics supervisor and visual creature effects art director at Weta worked who worked as a prosthetics supervisor and creature effects art director for
The Lord of the Rings
trilogy.
Behind the scenes
Edit
Acevedo had also worked with Peter Jackson in King Kong, The Lovely Bones, and The Hobbit trilogy.
Acevedo also made two cameo appearances in the trilogy: a Ring Dwarf-lord in The Fellowship of the Ring and a Corsair of Umbar in The Return of the King.
Autographs
Edit
Ad blocker interference detected!
Wikia is a free-to-use site that makes money from advertising. We have a modified experience for viewers using ad blockers

Wikia is not accessible if you've made further modifications. Remove the custom ad blocker rule(s) and the page will load as expected.