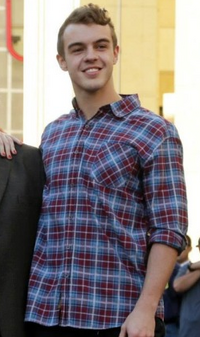 Billy Jackson
(born 1995) is a New Zealand actor who portrayed
Minto Boffin
in
The Fellowship of the Ring
, a
Cute Rohan Refugee Child
in
The Two Towers
, and a "Featured Child" at
Minas Tirith
and in
Sam and Rosie's wedding
in
The Return of the King
.
Filmography
Edit
Behind the scenes
Edit
Billy is the son and oldest child of Peter Jackson and Fran Walsh and the oldest brother of Katie Jackson. He has made a cameo appearance in every of his father's films (except the first two films of The Hobbit trilogy) since The Frighteners.
Billy did not wear a wig when he filmed his first Lord of the Rings cameo, and was the third extra in the trilogy after Matt Appleton and Dan Hennah not to wear a wig.
Ad blocker interference detected!
Wikia is a free-to-use site that makes money from advertising. We have a modified experience for viewers using ad blockers

Wikia is not accessible if you've made further modifications. Remove the custom ad blocker rule(s) and the page will load as expected.